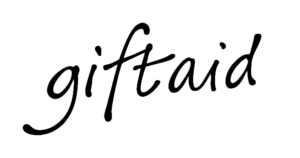 What is Gift Aid?
Gift Aid is a government initiative that allows charities to reclaim the basic rate tax that UK taxpayers have already paid on their donations. So for every £1 you give, we can claim the tax back as an additional 25p, making your donations go further at no extra cost to you.
Who is eligible for Gift Aid?
UK taxpayers who pay enough tax qualify for Gift Aid. You must have paid sufficient Income Tax or Capital Gains Tax to cover any donations you have made to charities in the tax year, or else pay the difference.
If you pay tax at a rate of 40% or above, you can claim the difference between the higher and basic rate on the total value of your donation as long as you include all Gift Aid donations on your self-assessment tax return and ask HMRC to adjust your tax code.
What donations are eligible for Gift Aid?
Gift Aid can be claimed on both individual and sponsorship donations provided they are gifts. Donations on behalf of someone else or a group of people e.g. a collection from work colleagues are not eligible.