BSAVA members have access to a number of apps available for both Android and iOS (iPhone/iPad) devices. There are also free apps for Congress and the guide to the use of veterinary medicines available within the BSAVA App available for download below.
The BSAVA App is intended for veterinary and nursing professionals features essential resources to help with day-to-day small animal practice. The app allows you to view your membership and its status, CPD activities and provides to the BSAVA Library and upcoming courses. In addition, members of the BSAVA can use the BSAVA Small Animal Formulary and BSAVA Guide to Procedures in Small Animal Practice.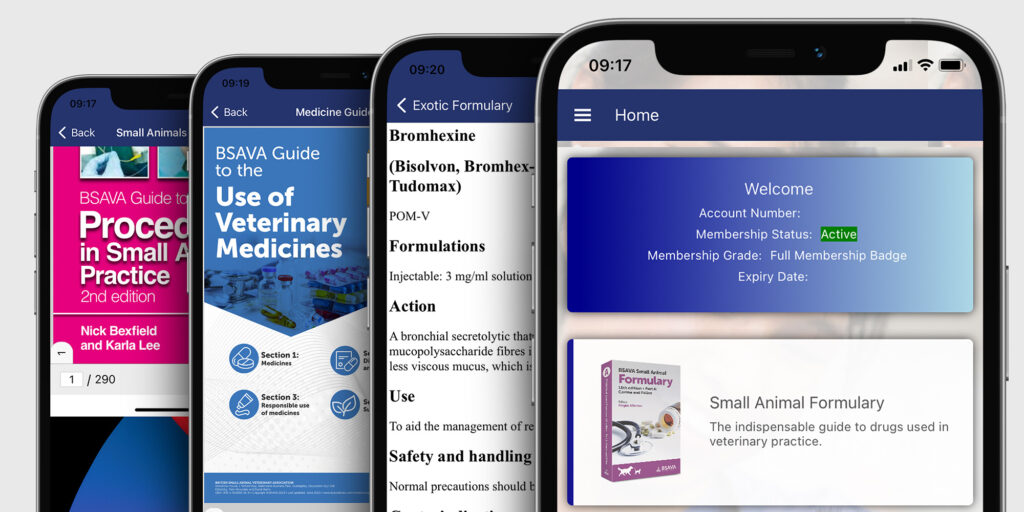 BSAVA App
BSAVA aims to be the professional association of choice to inform, support and engage the small animal veterinary community. With our exclusive member app, you can be confident you have everything you need to help you through your daily life as a practitioner in your pocket, so you can focus on the more important job – providing excellent animal care.
Your BSAVA member app gives you access to:
Small animal formulary: the BSAVA small animal formulary remains the indispensable guide to drugs used in veterinary practice – the new app features easier to navigate general information in addition to an A-Z listing of drugs.
Exotics formulary: all the information you need for drug treatment of non-traditional companion animals.
Medicines Guide: helping you navigate the minefield of issues, changes and regulations facing the profession.
Procedures in Small Animal Practice: practical guidance on performing routine diagnostic and therapeutic procedures.
CPD: keep track of all your BSAVA CPD activities, and find upcoming courses and events to help keep you ahead of trends and develop your professional skills.
The app also links to the BSAVA Library, forthcoming courses and other useful information.
Please note that some content on the app is only accessible to specific member categories of BSAVA. To join or renew your membership.
How to access the app
Please log in with the email address and password you use when registering and logging in to the BSAVA website. If you do not have a BSAVA website account, you will need to join or renew your membership in order to access the full content on the app.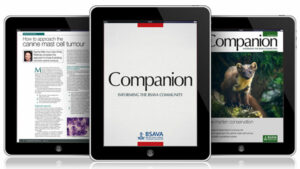 Companion App
Companion is available for members to read via an app for iPhone, iPad Android phone and Android tablet devices. In addition to the great monthly content, the app version includes hotlinks, pop-up images and links to additional content .
The app is free to download but an activation code is required to access all the issues, which is only available to BSAVA members.