Dr Emily Dutton – RCVS Specialist in Veterinary Cardiology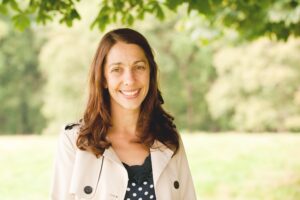 What or who inspired you to become a vet?
My first choice of job was an Olympic runner (in the days of Sebastian Coe) but that wasn't to be! Dare I say it, watching James Herriot and my love for animals and the countryside definitely had an influence over my final choice of career. The cardiology part came later on.
What is your current job? Do you hold clinics as well as carrying out research?
I'm an RCVS Specialist in Veterinary Cardiology and, like many other vets in the industry, my life is a constant juggling act. I run a peripatetic cardiology referral service in the North West of England, as well as carrying out research, public speaking, and balancing family life at the same time. Lockdown particularly tested my juggling abilities, but we all came through the other side!
What drew you to your field of study and what motivates you to continue?
Since being a vet student, I've always had a special interest in cardiology. I was very lucky to have been at Edinburgh University at the same time as many eminent and inspiring lecturers in cardiology during the late 1990s. They all inspired me and, as a result, I chose my elective in cardiology which I thoroughly enjoyed. During my time in general practice, I went on to study for the old-style RCVS certificate in Veterinary Cardiology followed by the RCVS Diploma in Veterinary Cardiology. What motivates me to continue is the variety which my job holds. I enjoy visiting many different practices whilst on clinics, and performing interventional procedures at a referral hospital. Equally I love my research. My current interest in deerhounds began after I diagnosed and treated a deerhound with dilated cardiomyopathy (DCM). The owner of the deerhound raised some funds and asked me to carry out a research project to help the breed. The rest is history.
Discuss the impact your research has had on the profession. How have those in general or referral practice benefited from your research?
Our longitudinal deerhound study has several parts to it, many of which are ongoing. The first part of the study is currently undergoing peer review and we hope this will be published soon. It will help cardiologists and veterinary practitioners accurately diagnose DCM in deerhounds by providing echocardiographic reference intervals. In addition, we have provided prevalence figures for DCM which has been shown to be one of the main causes of death in deerhounds. We hope to eventually publish advice on screening for DCM in deerhounds in an attempt to help reduce its prevalence in this breed. Finally, if we can discover a genetic association with DCM in our GENDEER study (which is funded by PetSavers and the Veterinary Cardiovascular Society) we hope to provide a DNA test that will allow even earlier diagnosis of DCM to help prevent breeding from potentially affected hounds.
Has your research served as the foundation for other studies or developments in the field, and what will happen after your study is complete?
I think it would be fair to say that the UK Kennel Club would like to see more studies such as this one involving other dog breeds. Their aim is to improve breed health generally using schemes based on evidence from scientific publications. They are supportive of this type of scientific research as, without any evidence, they wouldn't be able to provide sound advice for breeders or establish health schemes. They are keen to promote further studies and this may have an impact on the future of canine health. After completing the GENDEER study, I will no doubt find another little project.
Tell us a little about your own experience. What does your research mean to you personally and what have you gained from it?
I've gained a lot from this project, both personally and professionally. I have thoroughly enjoyed working at the deerhound shows – there is a real community feel and deerhounds are wonderfully gentle and majestic animals. The Deerhound Breed Club committee and members have been extremely supportive and patient with my multitude of research ideas. The Deerhound Breed Health coordinator has been particularly supportive and has volunteered a lot of her time promoting the health of the breed and helping me with my research. Collaborating with geneticists and other cardiologists has also been fun and a real privilege. It's been a real team effort and I have been surrounded by incredibly supportive clinicians and scientists, not just from the UK but also abroad. With having busy clinics, the research itself has been difficult to fit in but it has been highly rewarding and a really nice change from being out in the field. I feel as though I've had the best of both worlds.
What is your favourite aspect of your work, and what has been your most important/surprising finding?
It would be difficult to choose a favourite aspect as what I really enjoy is the variety. However, I do enjoy public speaking and the travelling associated with it. It's too early to comment on the GENDEER study as it has only just commenced. However, I find it fascinating how DCM can be so phenotypically different between various dog breeds, despite all dogs genetically descending from the wolf. The most surprising finding so far is how large deerhound hearts actually are. They are as large as hearts from Great Danes, despite deerhounds themselves weighing approximately 50% less.
What does PetSavers offer the profession in your opinion?
PetSavers is particularly keen to promote studies in general practice; therefore I would urge any vets in general practice wanting to carry out research to apply to PetSavers for funding. There are five types of PetSavers' grants that support small animal clinical research with the aim of improving the health of pets.
Away from the practice and bench, how do you spend your spare time?
I used to be an avid hockey player but then my two children came along and I'm now their taxi driver for their weekend sporting activities! When I'm not taking my teenagers to their rugby matches, I enjoy playing the piano, walking in the Peak District, cycling and relaxing with my two cats and family. During lockdown, things changed somewhat and I discovered a new hobby (gardening). I really enjoy simple pleasures such as watching the wildlife in our garden when I have spare time.
What advice would you give to vets considering carrying out clinical research for the first time?
I would positively encourage anyone from general practice with any research ideas to "go for it" but to definitely plan ahead. The study design is very important so find a mentor who has research experience who can help you with the design and advise you regarding ethical approval. My project started off only looking at establishing echocardiographic reference intervals in clinically healthy deerhounds. Since then, we've also begun investigating arrhythmias (using Holter monitors), cardiac biomarkers and now genetic associations with DCM. So plan ahead and consider all possible future investigations you may want to carry out when applying for ethical approval so that you only have to apply once. Otherwise, you'll lose valuable time waiting for various ethical approval applications to be accepted and this will potentially delay commencing the study.