Help celebrate our 50th anniversary by participating in the BSAVA PetSavers Art Competition
Working in the veterinary industry can often be stressful and demanding, so we are pleased to offer a creative outlet to enhance mental wellbeing and the chance to win some incredible prizes generously donated by art suppliers Cult Pens, Colart, Daler Rowney, and Pegasus Art. Your design could even feature on our new range of sympathy cards!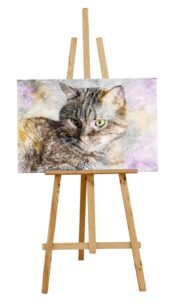 Whether you wield a paintbrush, sketch with pencils, sculpt with your hands, or master mixed-media techniques, choose a category from the list below and show us what you can create.
Entries can be based on two-dimensional or three-dimensional art but should exclude photography.
Choose from the categories below and unleash your inner creativity!
Pet portraits: Domestic pet portraits, realistic or imaginative
Tender memories: A heartfelt memory of a cherished companion animal
Paws, palettes and paintbrushes: Capturing the essence and colour of pets through an artistic lens
Images of winning artwork will be showcased at BSAVA Congress 2024, and we hope to use some pieces as designs for our new range of sympathy cards which will be added to the PetSavers shop.
The competition is open to BSAVA members and non-members alike with separate categories for those aged over 16 years and for 16 years and under. Please note that entrants will be deemed to have accepted our competition terms and conditions, so we recommend familiarising yourself with them before submission.
---
How to submit your artwork
To submit an entry, scan or photograph your artwork and email a hi-resolution image of at least 300 dpi to petsaversadmin@bsava.com
PLEASE DO NOT SEND US YOUR ORIGINAL ARTWORK AS WE WILL BE UNABLE TO RETURN IT.
Please include the following information in your email:
Your name
Your email address
Your phone number
Your age if you are 16 years old or younger
The name and email address of your parent or guardian if you are 16 years old or younger
The competition category you have chosen for your submission
Entrants submitting email entries to the competition will be deemed to have accepted the terms and conditions accessible here.
Entry is free, although voluntary donations are gratefully accepted and can be conveniently made here.
Please submit your entry before the closing date of 8th December 2023 at 18:00.
Prizes include various art materials such as Parker pens, paint sets, canvases and brushes.
---
Thank you to our sponsors: