Meet the research funder
15 August 2022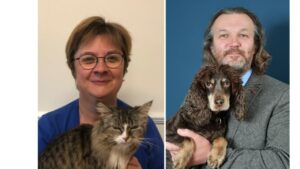 Many organizations have been grateful simply to keep their head above water through the past couple of years. But BSAVA PetSavers has not only managed to take care of its routine business – it has also had time to look back over its past achievements, and forward to a new chapter in its history.
BSAVA PetSavers is not blessed with the multimillion pound budgets available to some of the better-known animal charities. What it does have is a clear identity and a strong track record of funding studies that have had a substantial and rapid effect in helping to improve the health and welfare of the nation's pets. It has also played a key role in launching and developing the careers of several researchers working in small animal clinical medicine and surgery, an area of veterinary science where funding has historically been very difficult to secure.
It was established in 1974 as the Clinical Studies Trust Fund (CSTF) before becoming PetSavers in 1996, and later BSAVA PetSavers in 2021. Over that period, it has invested more than £2 million in over 300 clinical research projects in small animal medicine. As an organization dedicated to raising welfare standards, the CSTF decided, from its beginning, to focus entirely on naturally occurring conditions, and so it does not support research using laboratory animals to create experimental models of disease.
Although the time since the arrival of COVID-19 in the UK has been difficult for the charitable sector with fewer opportunities to organize fundraising events, BSAVA PetSavers has ridden the storm and emerged in a healthy financial state. So its management committee feels confident enough to increase its research budget by around 50% from £140,000 in 2021 to £220,000 in 2022, with another £35,000 carried forward from the previous year.
"Yes, we are ambitious, but what we are trying to do is to make these funds available to support worthy projects. Much of this money has come from large legacies that we have received in recent years. We aim to put this to good use because that is what the donors would have wanted," Dr Kirk explains.
"These funds will not help us achieve our goals just sitting in a bank. But if it allows researchers to carry out successful projects that will produce high impact science that raises the profile of the organization and helps us to attract more donations in the future – it is a cyclical thing."
Legacy income is always welcome for an organization like BSAVA PetSavers that is entirely dependent on charitable donations. But these bounties are inconsistent events. So to maintain the momentum that it is hoping to generate over the next few years, it will need regular small donations from its supporters in the profession and their clients. Rosie's committee is looking for a new fundraising administrator to work with the two committees and the Fundraising and Grant Awarding Manager, Dr Sarah Williams, in trialling a range of fundraising methods as part of the charity's plans for a long-term fund-raising strategy.
PetSavers' grants
As explained in the impact report, the committees have also been looking at the way these funds will be spent. BSAVA PetSavers has always sought a balanced portfolio of projects that support researchers at different stages of their careers. These range from SRPs (Student Research Projects) for veterinary students or VNs that are worth up to £3,200, MDRs (Master's Degrees by Research) for vet postgraduates with a maximum value of £40,000, and CPRs (Clinical Research Projects) aimed at more established veterinary or bioscience research professionals, which are worth £20,000. The charity will also provide match funding for projects carried out jointly with other organizations with similar research principles. These include both external partners such as the British Hen Welfare Trust and BSAVA's affiliated bodies such as SAMSoc, the Small Animal Medicine Society.
Last year, BSAVA PetSavers also introduced a new grant, the Research Fellowship aimed at early career stage researchers who have already obtained some form of postgraduate qualification. These grants will aim to set them on the road to becoming a fully-fledged independent researcher or to prepare them for a Research Council fellowship application. They are intended to support more in-depth studies than the existing grants and are worth up to £70,000 for a maximum period of 2 years.
As in all areas of research in the UK, competition for BSAVA PetSavers grants can be tough and the review process will quickly weed out any applications that have not been properly thought through. The overall success rate is relatively high at around 44% but that figure reflects the significant number of successful applications for SRPs. "These are small-scale projects that the charity considers low cost and low risk. But they do have an important role in giving vet students and vet nursing students a taste of what life is like as a researcher. As part of the funding, the students also get complementary tickets for BSAVA Congress where they get to present the findings from their project. Presenting is a significant part of a researcher's working life and so it is very useful to get early experience of what that involves," Dr Kirk explains.
PetSavers' committees
The new Chairman of the Grant Awarding Committee may have spent the whole of his career in first-opinion practice after graduating from Cambridge veterinary school in 2004, but he is familiar with the world of research. He had already studied for a degree in Natural Sciences at Cambridge and completed a PhD in genetics at Liverpool before enrolling on the veterinary undergraduate course. He was appointed to the BSAVA PetSavers committee after 5 years serving on the BSAVA Scientific Committee and sees his new job as a logical extension of that role.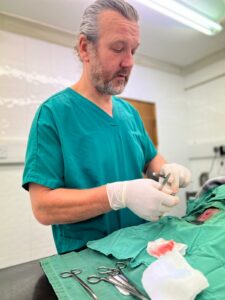 He points out that committee membership is often popular amongst vets working in referral institutions such as vet schools. "I think it will be interesting for the Chair of the Grant Awarding Committee to come from general practice. I will bring my experience of seeing a broad spectrum of clinical cases to the group and may view project proposals in a different light to more specialist colleagues. I want to continue to see how the results of projects that BSAVA PetSavers has supported translate into improving the health of pet animals. It will be very rewarding to use this knowledge in practice. Also, as I have no close associations with any research groups or institutions, I am likely to have fewer conflict of interest issues. It will be uncommon for me to be unable to take an active part in decision making due to prior knowledge of the applicants."
Management Committee Chair Dr Godfrey is also from a general practice background – after qualifying from the Royal Veterinary College in 1988, she spent time in general practice before becoming a partner in a feline-only practice, working as a clinician and then as practice manager. Later she spent over a decade at Solihull College and University Centre, becoming Higher Education and Veterinary Nurse Lead for the Animal Management Department, and lecturing, developing and running Oxford Brookes' degrees in Animal Behaviour and Welfare. Whilst there, she completed a Master's in Educational Studies and became a Fellow of the Higher Education Academy. She has now returned to practice management. She has prior experience of BSAVA PetSavers, having been on the Management Committee for 4 years, and is also on BSAVA's West Midlands regional committee.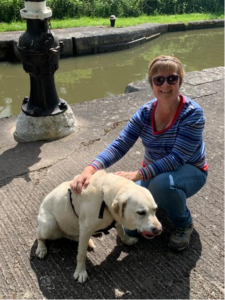 She agrees that it is important for general practitioners to have positions on both BSAVA PetSavers' committees. "We do provide some funding for studies into emerging or unusual diseases, like the strange neurological condition, robotic cats, that has been recognized by Professor Danielle Gunn-Moore and her team in cats in Scotland. But the bulk of our funding should go into investigating commonly seen and/or high morbidity diseases as much as possible. So, for example, we are funding a project looking into the potential for bacteriophages as an alternative to antibiotics in tackling secondary Pseudomonas infections in dogs with chronic otitis externa, which is a very common and difficult problem for vets."
For BSAVA PetSavers to continue and expand on building the knowledge base needed by practitioners, it requires grassroots vets and VNs to get fully behind the fundraising efforts and to bring its work to the attention of their clients. One of the changes that has been introduced under Dr Godfrey's watch has been the creation of a BSAVA PetSavers alumni group which will take on an ambassadorial role, raising awareness of its research among key veterinary audiences. They will also act as mentors for practitioners wanting to carry out their own research project but who may not have the benefit of close links to an academic research group.
As the organization approaches its 50th birthday in 2024, Dr Godfrey is keen for everyone to know about the BSAVA PetSavers-supported projects listed in the impact report, such as that which led to the development of the continuous glucose monitoring technology that is now in widespread use, offering a longer and better quality of life for diabetic pets. "Our 50th birthday is an ideal opportunity to talk about these things and get the message across to our members and the public. We certainly hope to have a big presence at BSAVA Congress in that year and there will be a number of special events on both the grant awarding and fundraising sides."