JSAP makes a move to reduce environmental impact
16 September 2022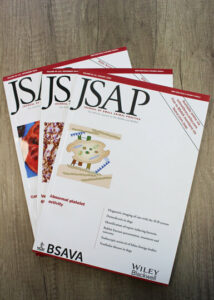 BSAVA is pleased to announce that, from 2023, Journal of Small Animal Practice (JSAP) will be printed in the UK. This follows a review by our publisher, Wiley, to ensure that the journal is printed in the most effective location from both a cost and carbon footprint perspective. To coincide with the move, the cover and paper will be changed from gloss to matt, and the packaging will be changed to either paper or compostable wrap.
Ian Mellor, Head of Publications at the BSAVA said: "This is really welcome news for JSAP as BSAVA works towards being more sustainable as an Association.  Paper copies will now be printed in the UK, in common with Companion and our manuals.  Having said that, those BSAVA members who receive printed copies of JSAP are encouraged to consider whether they really need a paper copy – each time a BSAVA member opts out of receiving a print copy of JSAP, 12 trees will be planted thanks to a Go Green Fund that our publisher Wiley has launched in partnership with Trees for the Future."
JSAP covers a range of topics including veterinary medicine and surgery relating to dogs, cats and other companion animals. As well as being the BSAVA's scientific journal, JSAP is also the official scientific journal of the World Small Animal Veterinary Association (WSAVA). BSAVA members receive complementary online access to JSAP.